Family & Friends
My father: Wilbert E. Bales (1926-2007) My mother: Marie E. Bales (Rogers) 1930-1991
Mom & Dad built the house where I grew up. They are both with God.
My grandparents: Lillian & Bill Bales, Sr. Laura's father: Russell Wilson
Both were hardworking people. Both are with God now. WWII Vet. Is now with God. After Laura's
Grandpa in 1993; Grandma in 2004. . accident he was a big help with her.
My sister Debbie Bales; nephew Jason Bales; niece Tracy & her husband Warren Norman, Kailey, Holly, & Ralphy, & ex- (nephew)-in-law Chad Taber;
My sister Debbie lives in Hardin and works in Home Healthcare (including working for us). Her and I are very close. My nephew (who is like a son to me) Jason graduated Central Missouri State University in May 2003 with a Bachelor's Degree in Communications. He lives in Warrensburg and works at WalMart. My niece Tracy is married to Warren Norman raising Kailey and Holly, and son Ralphy, and they live in Emma, Missouri. Tracy is attending college and Warren works at Tysons.
Though Chad Taber and Tracy divorced in January 2008 he is like a nephew to me so still a part of my family Chad is now married to Lindsey, lives in Gladstone and works for Taber Folgers Coffee. Chad owns CTDesignz and has a Bachelors Degree in computers).
2006
Laura's sister (and Ltd CoGuardian): Penny Heckerman. She's a 'sis' to me, too
Penny lives in Jefferson City, Missouri. She has been around to help me with, and to love & care for Laura, from the day of and since Laura's accident.
Laura's sister LYDIA Gearing
Laura's sister Lillian
My son: Michael Jr My cousin Barb Bales & Randy
2007: Currently in custody of MO Dept of Corrections. Since graduating Barbara lives her Hardin.
Hardin Central he's had many mental and legal problems. Him and I Randy & her operate Richmond
have been estranged. We are communicating some now. Time will tell if Bargain Town in Richmond, MO
he has learned from his mistakes. Visit The Dawgs page for his football accomplishments 1990-1994
My cousin, Barb Bales's brother, Ray, was killed in an automobile accident in 1993. Ray had one daughter: Cassandra.
Barb's parents: My late Uncle Bill Bales Jr, and Aunt Lois (who now resides in Richmond)
My uncle Bill Bales, Jr (in uniform), my grandparents,
ME (2 years old) and my father, 1957
My cousin Jerry MAC Bales
We are also kin to the Rogers family in Richmond, MO. Eventually I'll add photos of Aunt Myla, and others to this site.
People become family to me even though we may not be blood related. Family is more than 'blood', because as I know all too well blood can betray blood. To me family is: people who share mutual caring, love, commitment, and honesty beyond just friendship. I am blessed to have a lot of 'family'.
My two 'ex' semi sorta stepdaughters: Amber Cantrell & Stacey Burdolski Beverly
(I dated, lived with, was with, their mother, on and off, 1990 - 2000; the girls and I continue to be family)
Stacey is now married to Sean Beverly (US Army) and has two children: Owen & Kaleb. Stacey will be residing in KCK while Sean is deployed in Afghanistan. Amber is residing in KCK.
My Bro: T.J. Curtis My Sis & Bro: Pat & Rick Holmes
Maint Management, Argosy Casino. Lives in Hardin Rick is an EMT & Ivy Bend MO Fire Chief, and Pat sells real estate in the Ozarks.
My Bro: MG Skiles & family My Bro: Bob-O, & Christy
They reside in San Marcos, Texas. Manager: Ideal Industries. Mayor of Hardin 2001-2004 & 2006 to ?
My 'much much younger' bro Will McQuillen, and his brother, and my 'younger' bro: Mike.
Will is currently in the U S Marine Corp. He married his wife Melissa in 2008. Mike McQuillen is Will's proud older brother who lives in Richmond. His lady Samantha and him both help take care of Mike & Will's mother, & their daughter.
Bro Louis
MY BROTHER, WHO IS NOW WITH GOD, DOC JOHNSON
THIS PAGE IS STILL UNDER CONSTRUCTION
Plan to eventually add photos of my cuz Jerry Mac Bales & family, and other family & longterm friends as I get the photos to add.
SPECIAL FRIENDS
Friends who have became like family to us is shown below (I have a lot to add so this will take awhile to get completed)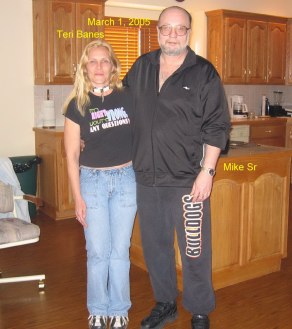 My special friends Patti,and Teri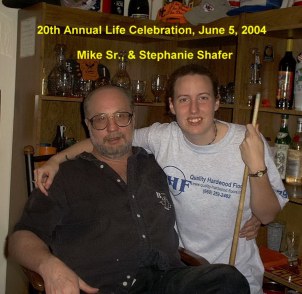 THIS PAGE IS STILL UNDER CONSTRUCTION
SPONSORED CHILD
From May 1996 to 2009 we sponsored a child in Santiago, Dominican Republic. He turned 18 years old in 2009.